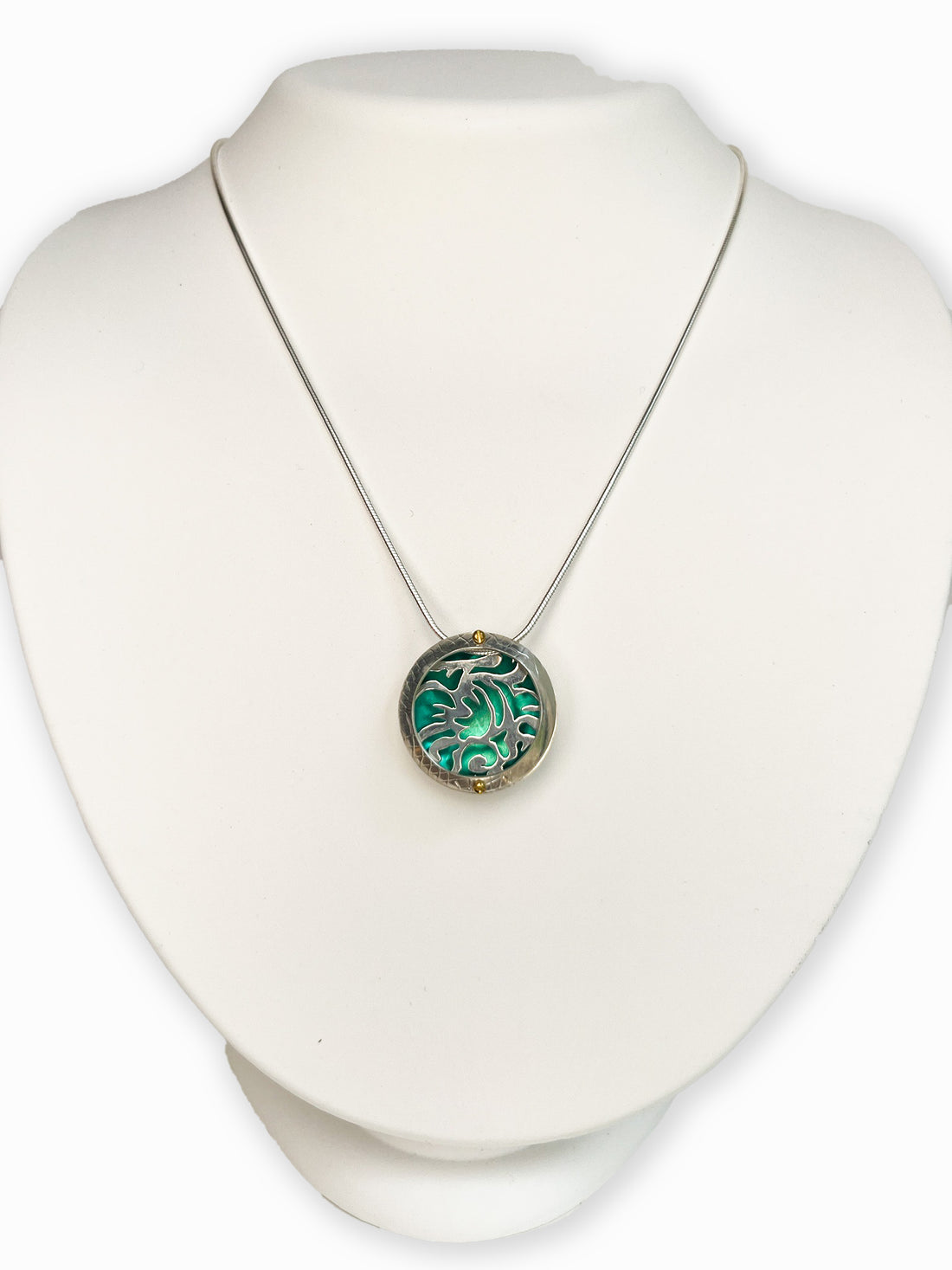 Dragon-Silver and Niobium Necklace
This handmade silver and niobium necklace is a unique and eye-catching piece. It's shapes create movement and the anodized niobium piece gives off a bright pop of color creating depth to the piece. I created four of these special necklaces each one is different.  I'm in love with the bright colors of the niobium in pairing with the sterling silver.  
The disc is 1" around and is on 16" snake chain, it is made of sterling silver, anodized niobium (colored piece) and tiny brass screws hold it all together
Keep all your Kelli Jewelry looking fabulous with these tips on jewelry care!
Sterling Silver (925) can be polished with a jeweler's cloth, silver polishing cloth, and any type of microfiber cloth.
14K/18K Gold can be cleaned with warm water and mild dish soap and/or jeweler's cloth.  Use a soft cloth to remove any build up or a fine soft bristle toothbrush for those hard to reach areas and dry off with microfiber cloth.
Copper/Brass can be wiped off with plain microfiber cloth.  Do not use cleaner/polish or treated polishing cloth, because they can have an oxidation reaction causing skin to turn green. However, this can be easily washed off and is not harmful.
Titanium/Niobium anodized jewelry can be cleaned with warm water and mild dish soap and dried with microfiber cloth.
Clean stones/gems with mild dish soap and warm water and wipe with microfiber cloth.
Store jewelry on a soft surface to avoid scratching. Use a jewelry box or plastic bag.